Subaru Australia wants seven-seat Ascent, but it isn't happening
Blame the lack of right-hand drive demand.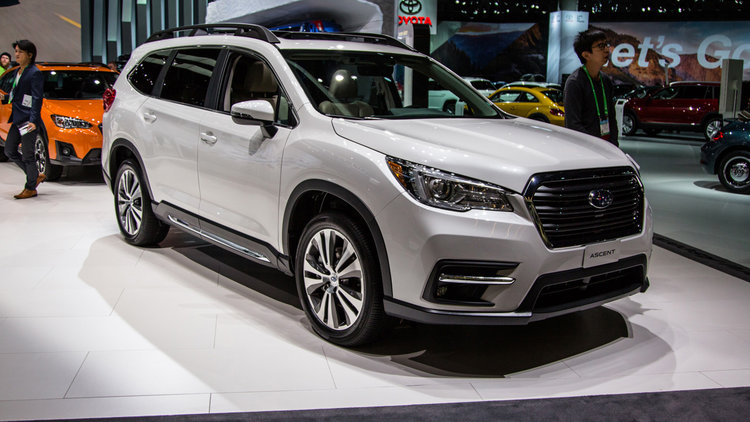 Subaru's Ascent replaces the long-dead Tribeca atop its range, but don't expect this Toyota Kluger and Mazda CX-9 rival on our shores any time soon, despite Subaru Australia's wishes.
Subaru Australia is keen to offer the new three-row Ascent locally, but a lack of right-hand drive (RHD) demand outside our tiny market is standing in the way of a profitable business case.
The Ascent is the biggest Subaru to date, with three rows of seats. It's being built in the USA, for American tastes, and subsequently in left-hand drive (LHD) form only. Enter a familiar problem for Australia.
It costs a lot of money to tool a factory to produce a car in right- and left-hand drive, money which needs to be returned through lots of sales.
And while it'd be competing in a popular segment in Australia, our market is a minnow by global standards. Meanwhile, bigger RHD markets like the UK and Subaru's home of Japan don't want the Ascent.
Not that Subaru's local arm is happy with the situation.
"I think one of the challenges is we are the largest RHD market outside of Japan [for Subaru]. We'd love to have that product for Australia," Subaru Australia managing director, Colin Christie, told us this week.
"We continue to discuss with Japan but at this stage there's no plan. The challenge is when there's only one right-hand drive market that would want that car. It's something you have to negotiate through."
While we don't doubt Subaru Australia's reasoning, we would point out that the Toyota Kluger and Nissan Pathfinder are also built in the US, with right-hand drive production a tiny fraction of output. One can't imagine either company tolerating a loss-maker…
---
What's an Ascent anyway? 
Based on the new Subaru Global Platform, which made its debut underneath the latest Impreza range and also underpins the new Forester, the Ascent looks a lot a stretched and scaled Liberty, albeit in crossover form.
There are three rows of seats in standard configuration, with space for eight people, although high-spec cars are available with individual thrones in the second row, reducing maximum capacity to seven. For improved ingress and egress to the third row, the Ascent's rear doors open up to 75 degrees.
The Ascent will be powered exclusively by a new 2.4-litre turbocharged four-cylinder boxer engine. Equipped with direct injection and a twin-scroll turbo, the new motor develops 194kW of power at 5600rpm, and 376Nm of torque between 2000 and 4800rpm.
To put that into perspective, the 3.6-litre six-cylinder mill in the current Liberty and Outback makes 191kW of power at 6000rpm, and 350Nm of torque at 4400rpm.
Drive is sent to all four wheels through a CVT with paddle shifters, capable of flicking through eight 'virtual' gear ratios. Assistance features include X-Mode low speed assistance, hill descent control, and trailer stability assist. Subaru says the Ascent has a 2.3-tonne towing capacity.
The Ascent comes with up to eight USB ports, a 120V power outlet, and 19 cup and bottle holders.
Standard features include roof rails, a three-zone climate control air-conditioning system air with vents for all three rows, and the company's EyeSight safety system, which includes automated emergency braking, adaptive cruise control, lane departure warning and head-up display.
Available features include front seats with power operation and cooling, heated front and second row seats, blind spot monitoring, lane changing assistance, steering responsive headlights, automatic high beam control, electronic rear view mirror, and a 180-degree front view monitor.
Base models come with a 6.5-inch touchscreen infotainment system, while mid- and high-spec models gain an 8.0-inch display.
Depending on the trim level, Apple CarPlay and Android Auto smartphone mirroring, satellite navigation, Wi-Fi hot spot, satellite radio, and a 14-speaker Harmon Kardon sound system are available.
---
MORE: Ascent coverage
MORE: Subaru news, reviews, comparisons and video
On this topic: ( from category Articles )