Configurator Challenge: Rolls-Royce Cullinan
A high-roller for high rollers.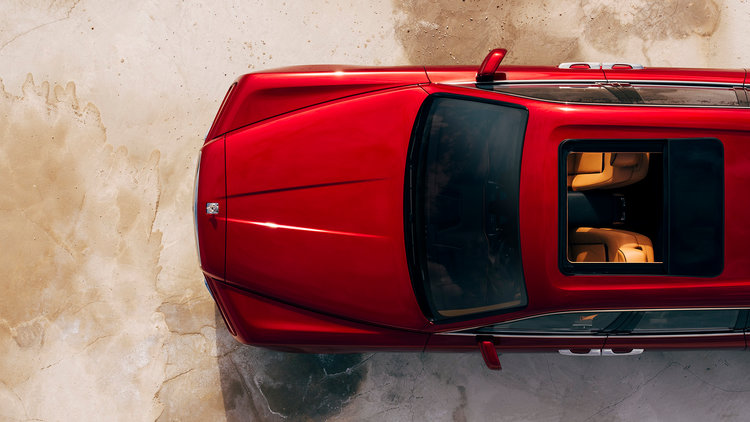 Customisation is in vogue at the moment, but choice can be seriously confusing. In our configurator challenge, we let the CarAdvice team loose on a manufacturer's website to create their ideal spec of a certain model.
For this edition of the Configurator Challenge, we're designing our perfect Rolls-Royce Cullinan.
Let us know what you think in the comments, and which cars you'd like to see next!
---
Mike Stevens, Producer & News Editor
What a surprise, Stevo's gone with the darkest options he can secure. But, that's how I rolls. So here we've got the Urban spec as my base, which comes with 22-inch Part Polished Shadow wheels as standard, and I'm happy to stick with those – with the addition of body-coloured centre caps.
I've gone with a Cobalt Blue double coachline for a very subtle piece of flair along the profile, but I've really lashed out with the Spirit of Ecstasy by choosing the up-lit version. The moths that are the general public will surely be drawn in by its magnificent glow.
Exterior styling is rounded off with the stainless steel trim pack and rear privacy glass.
Inside, there's the Atmospheric theme with a black base and Scivaro Grey headliner and accents (it wouldn't let me do black-on-black, but this quite nice anyway), matched to lambswool foot mats. Shoes off when you enter my home-on-wheels, thanks.
To top it all off, we've got a Goodwood-special VIN plate, and curtains for the rear side windows and centre partition.
Thanks for playing, but I'm afraid I've Cullinaned the wheat from the chaff with this one.
---
James Wong, Journalist
Contrary to some of my colleagues, I actually don't mind the Cullinan. It looks like how I thought a Rolls-Royce SUV would look like when we first heard the Cullinan was on the way – it's not like the Phantom is a supermodel anyway.
As usual I've gone for the usual 'Wongy-spec' colour scheme, but instead of using the marque's usual tongue-twisting – and personally, annoying – terminology, I'm just going to break down the details as simply as I can.
The body is green, Dark Emerald if you want to be precise. For some added contrast, I opted for the single pinstripe in a creamy white – mmmyes.
Filling the arches are 22-inch seven-spoke alloys with a dark polished finish, accented by a body-coloured centre cap. The solid silver ornament on the bonnet is also lit – not the same 'lit' as the kids say nowadays – just in case you want people to know what you're driving at night.
Inside, I've gone for a two-tone scheme featuring brown and beige, a four-seat layout with rear centre console, ventilated rear seats, top-stitching on the dashboard trim, Rolls-Royce monogram embossed in the door trim, dark wood trim – which has also been extended to the centre stack and the wider dashboard, and a rear entertainment system.
There's also rear privacy glass, retracting curtains for the rear side windows, a glass partition separating the luggage area and second row, a TV tuner, and the driver assistance package (really?!).
Rounding out my specification is the addition of an all-weather boot mat, perfect for keeping the carpet protected from dirty clothes, sporting equipment, or non-brand name products.
Kids, we don't talk to strangers, or commoners – got it?
---
Kez Casey, Road Tester
After having completed a number of these challenges I often find myself muttering about how crappy the available colour combinations are. Not this time though – Rolls-Royce really knows its stuff here.
The Cullinan may not be my first choice in ultra-luxe, but there's bound to be weekend adventures in places I couldn't take a Phantom. To complement the already imposing interior deep Twilight Purple with an Arctic White double coachline says everything it needs to.
I'm not sure how Rolls-Royce managed to get the cut lines for the bonnet so wrong, but the stainless hood is a definite no-go for the Cullinan, but lower bumper stainless trims, part polished 22-in wheels with Twilight Purple centres and an illuminated Spirit of Ecstacy add all the jewellery this car needs.
That interior though – ticking the Bespoke box allows you to pick exactly how you'd like individual segments of trim colour-keyed, which has led me to Arctic White, with a few subtle inlays of Charles Blue for the seat centres and armrests with hints of Mandarin on the door uppers,  through the seatbacks and in the door pockets.
Truly. Bloody. Gorgeous. Then the details like an embossed Spirit of Ecstasy on each door card, a monogrammed RR logo on each headrest, the 'Technical Bespoke' dashboard timepiece, oh and – of course – the Immersive rear seat divided by a commanding centre console outfitted with open pore Blackwood veneer.
Now if anyone needs me I'll be conquering the world from the back seat of my Cullinan. Driver, chase the horizon, post haste!
---
Scott Collie, Journalist
Ew. If you're buying a Cullinan, we need to have a serious talk. Anyway, the Configurator Challenge dictator – James Wong – has spoken, and as one of his loyal subjects I am compelled to obey. Here goes nothing.
The colour palette is disappointingly short on choice if you're blues, making Midnight Blue my grudging choice. It contrasts nicely with the stainless steel exterior pack and my polished 22-inch wheels, complete with body-coloured inserts.
I've opted for a solid silver Spirit of Ecstasy, because restraint is wildly overrated, and a pop-out tow-bar for those occasions where the Range Rover is with the mechanic and the horse float needs towing. Boy scouts are always prepared, etcetera.
Inside, my quad-tone cabin is designed to evoke memories of your favourite yachts. Navy blue primary leather and seashell (off-white) secondary trim are a match made in heaven, especially with 'creme light' highlights around the bolsters and headrests.
Red stitching and piping really make it all pop, while my Open Pore Paldao wood wouldn't look out of place on a Riva Aquarama speedboat. I don't like the exterior, but this cabin is actually kinda… nice. Don't tell James I said that, though.
On the options front, I've gone for a wood-trimmed dashboard fascia, a fancier clock face, lambswool floor mats, curtains for the rear passengers and the full driver assistance package. Life should be easy for my chauffeur, naturally.
---
MORE: Rolls-Royce Cullinan coverage
MORE: Everything Rolls-Royce